Before we begin, a definition:
min·gle – \ˈmiŋ-gəl\ (transitive verb) to bring or mix together or with something else usually without fundamental loss of identity: intermix.
Now that you know what we're up to, link up and join the Mom's Monday Mingle Blog Hop. Please leave a comment so we can follow back and don't forget to include a link to your Twitter, Pinterest, Facebook or other pages so we can find you!
Grab a button to spread the love! Have a great week!
Would YOU like to "Co-host"
with us?
Booking now for June!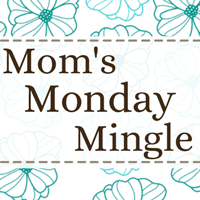 1. Please FOLLOW each hostess (They are 1-6 in the link up)
2. Leave a comment if you are new and want us to return the follow.
3. Grab the button and display it on your sidebar or link it to the post.
4. Have fun and meet new friends!
Like it? Share it!